Some stories and themes are best told in the novel format, targeted at older audiences. These books require fewer illustrations.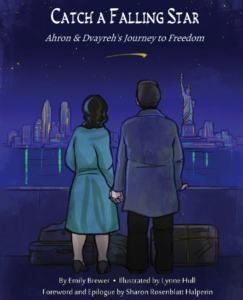 Catch a Falling Star, published in November 2017, tells the story of Ahron and Dvayreh, their childhoods in Eastern Europe, their harrowing escape from the Holocaust, and of the new life they established after the war in the United States. Based on historical research and on interviews with their daughter and on interviews she recorded with them, this book brings their stories to life in a way that their descendants will always remember. In the back of the book are song lyrics, recipes, timelines, family trees, primary documents, and photos covering more than 100 years.
Howard Guest, American Chemist traces Howard's career and adult life and the ways they intersected with major movements in American history. It concludes with a 100-page supplemental section that organizes the photos and primary documents on which the story was based. Flip through from beginning to end to see the possibilities of a Legacy Storybook.
Our Baba
 tells the story of a lovely grandmother in Pennsylvania who opened up a beauty shop in her home, where she invested herself in the lives of her children and grandchildren.